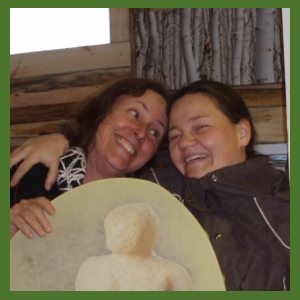 Solas soap was founded by Christiana Harle (pictured left) inspired by her dream. A dream where a mother bear cooked soap. The result was additive-free soap with no artificial preservatives, cleansers, dyes, or fragrances.
Since the beginning of the 2000's, Sola soap has delighted and cleaned many people. The winds of change began to blow and Christiana decided to leave the soap. The friendship with Leila gained extra wings and the sale was made.
I'm Leila Tuononen (pictured right) from Merikarvia, a small seaside village. The sea, nature and animals have always been a big part of my life. My work with children and young people has taken me from the south to Häme and eventually I found my place from North Karelia, Juuka. Friendship, vision of life, humor and "madness" are the factors that unite me and Christiana.
Soap represents a new period in my life for me, that's why I'm walking with a smile in my face in my world of soap boiling, tepee village, surrounded by my friends and my animals. Follow from Facebook the markets and fairs we are attending, and come to have a chat about soaps and everything else regarding nature.